This year, AGA has taken in over 60 hounds, several with severe injuries or major medical needs. 
AGA is committed to helping these homeless hounds return to good health & have happy lives.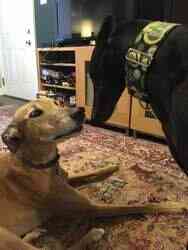 Adoption fees only cover a part of those costs.
The remainder is paid for by generous donations by Hound-lovers like YOU! 
Please donate today and support 
the AGA $5K Medical Fund Campaign!
Help homeless greyhounds race into retirement



AGA partners 

with PetLink 

for 

microchip registration!

Your AGA Adopted Greyhound is 

micro-chipped

 and registered with PetLink prior to adoption!

If you have not previously registered the microchip for your 

AGA Adopted Greyhound

, please let us know. 

We can help you!  

Contact us

 

for more information!




---




New shipment of AGA's Official T-shirt has arrived!




Get your official AGA cotton crew-neck t-shirt for $15 each (plus $5 S&H) and sport the AGA colors!  These shirts promote AGA's mission and help raise funds for the greyhounds in our adoption program!  As always, 100% of the proceeds goes directly to the hounds!  

---

AGA's primary goal is to find responsible loving homes for pure-bred greyhounds after life on the racetrack and to acquaint the public with the desirability and availability of greyhounds as pets.

 

AGA is organized exclusively for charitable and educational purposes within the meaning of section 501(c)3 of the Internal Revenue Code. Our volunteers work very hard to bring you the best possible hound for adoption. Small dog and cat testing are done so that a better placement may be achieved. Our hounds are taken to AGA's veterinarian immediately upon arrival to be spayed/neutered, heart worm tested, teeth cleaned, vaccinations, nails trimmed & bathed.




Mariah is now an 
AGA Permanent Foster!


Mariah has become a favorite Senior Gal within the AGA Family!  As she has gotten older, though, she has developed a series of chronic benign skin cancers and small tumors that must be monitored and removed when necessary.  AGA has made the decision to make Mariah a permanent foster family member and assure that she gets the attention and medical care that she needs for the rest of her life.  Although she is not in any life-threatening danger

, we just think she deserves extra TLC 

and 

a "permanent" place to land with us!




or sponsor Mariah's ongoing medical and foster care by 

clicking the "Sponsor Me with PayPal" button!




---

AGA thanks...

Loreal's Angels

Jennifer Ready

Dale Briggs

Michael Laing

Patricia Christensen

Darrell and Dawn Quinlivan

---




UPDATE:  The infection in Loreal's left-rear leg was just too great by the time she arrived at AGA and sadly she lost her leg.  However, the surgery went well and she is happily recovering in her foster home!  She is very resilient and will have a wonderful quality of life.  Please consider making a donation today and click on the PayPal button below to help us with Loreal's medical costs!




Sweet Loreal came into AGA with a nasty rear-leg break.  She is currently at our vet undergoing tests and treatment evaluation. Regardless of the outcome of her examination, she will have to spend time recovering in her foster home once surgical decisions have been made and resulting surgery performed. AGA wishes this sweet girl a healthy and speedy recovery!







We need a Volunteer to Host our monthly Meet & Greet at PetSmart Temple!

4th Saturdays,1pm to 3pm

Can you commit to just one Saturday each month to introduce folks to Greyhounds?

---




"Walk for a Dog" with WoofTrax - Support the Greyhounds!

You don't have to have a dog to walk and support AGA. 

You simply do your daily walk and log it on the App. 

AGA gets the donation and you get your exercise.

Tell your friends and family to walk for AGA!

---